Take Your Fitness to
the Next Level

Ready to get in the best shape of your life, and have fun while doing it?  Join the fitness community at Sweat Factory CrossFit Afterburn!
Sweat Factory CrossFit Afterburn is a state-of-the-art CrossFit group training facility located in Davenport Florida, just minutes from some of Central Florida's largest attractions.   Whether you're new to CrossFit, or are already experienced with group training, you'll find that Sweat Factory CrossFit Afterburn is the best place for you to reach your fitness goals.
We've heard all the rumors about how 'scary' CrossFit can be…well they aren't true! CrossFit is fun, and you don't need to a professional athlete to be able to participate in our programs!  Our coaches modify workouts so they're suitable for beginners, while still challenging our veteran athletes who want to prepare for an upcoming competition.
Through experienced coaching and the right equipment, we focus on getting you the results you want in order to achieve your fitness goals.
Get Started Today for Free!

Our team is serious about fitness and having fun, and to prove it to you we're offering you a FREE INTRO so you can see if Sweat Factory CrossFit Afterburn is right for you!
Your Free Intro is broken down into 5 parts:
We Get To Know You
We use our Free Intro to learn about you, your experience with fitness, and what you enjoy doing.
Understand Your Goal
We want to find out what your health and fitness goals are so we can find the best ways to help you reach them.
Measure Baseline
Together we will determine how close you are to meeting your goals.
Make A Plan
We join you in creating a plan to meet your individual goals.
Help
The primary purpose behind a Free Intro is to determine how we can best help you.
Fill out the form to claim your FREE INTRO offer!
By submitting this form you are authorizing Sweat Factory CrossFit Afterburn to communicate with you via email, phone, and/or SMS. Msg & data rates may apply. You may opt-out at any time.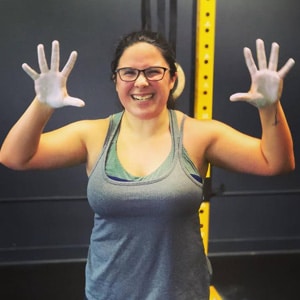 "Fantastic facility and great members. Best coach there is! JC truly cares about his members and goes out of his way to ensure they not only meet, but exceed their goals."
– Kaitlin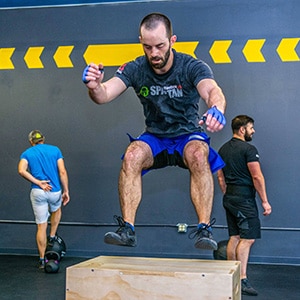 "It's a pleasure working out at Afterburn; Carl, Craig, and JC are friendly, welcoming, and always keep the equipment clean. JC works with everyone to ensure the workout suits their experience level and provides modifications when needed. Workouts are always fun and challenging and if you are in the Celebration/Kissimmee area CrossFit Afterburn is definitely worth the drive."
– Zach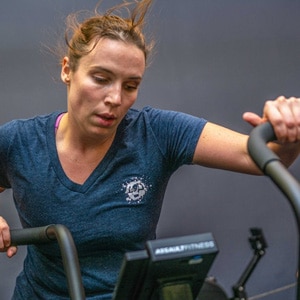 "I have nothing but wonderful things to say about this box! Friendly members, experienced coaches, and honest owners. Crossfit Afterburn is welcoming to beginners and it is close to Disney! Crossfit Afterburn provides challenging workouts that can be tailored to any skill level, in a safe, clean, and fun environment! …A definite 5 star box!" 
–  Samantha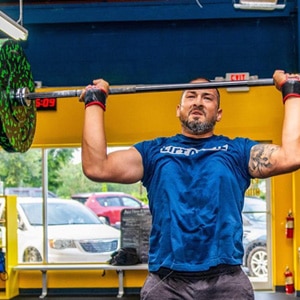 "This is an amazing box, with a great environment!!! This box pays great attention to everyone's form to make sure they are doing all movements properly and help you reach any goal you have set."
– Ramon
State-Of-The-Art CrossFit Facility
Just minutes from Champions Gate, Celebration, Reunion, and Disney World
Just off of I-4, minutes away from Central Florida's biggest attractions, you'll find Sweat Factory CrossFit Afterburn.  A spacious new facility packed with state-of-the-art equipment, ready to help you achieve your fitness goals.  Our experienced coaches prepare workouts for athletes of all skill levels…even those who have never tried CrossFit before.  Check out pictures of our facility, or stop by and say hi!  We look forward to meeting you and helping you achieve your fitness goals.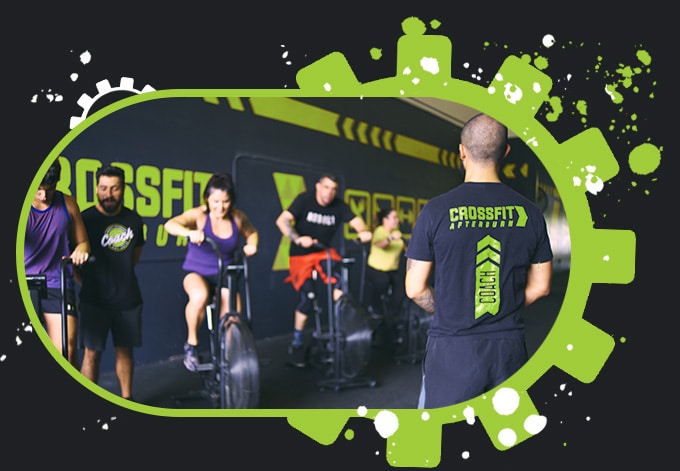 CrossFit Afterburn takes pride in delivering the best training experience possible for all our members. Based on CrossFit training methods, our coaches have developed programs that are designed to get you the best results possible, regardless of whether your goal is to lose weight or gain muscle.
Our coaching staff is passionate about providing you with individualized attention, scaling workouts to suit each member while maintaining a great group atmosphere.  The team at Sweat Factory CrossFit Afterburn is here to help you reach your fitness goals, whether you aspire to be a top-tier athlete or are completely new to fitness.