CrossFit AfterBurn – The Premier Disney Area Crossfit facility for Drop-ins and Locals alike.
Looking for a new fitness home?. Around five months ago so where we. Necessity is the Mother of Invention.
This was the main driver behind Crossfit AfterBurn. 3 Friends dissatisfied with the area's offerings with a whole lot of ideas and expectation for what a CrossFit and group training facility should be in the year 2019.
Conveniently located in the Disney area. (Close to Davenport, Celebration, Kissimmee) Crossfit AfterBurn is a purpose-built Crossfit and Group training gym/box.
It's all About The Good Vibes.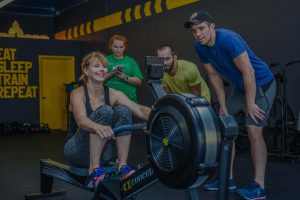 Have you ever left a gym feeling worse mentally than when you went in? If you answer yes to this, chances are – YOU need a new place to work out.
CrossFit AfterBurn Near Disney strives to create an environment that allows all members and drop-ins to thrive both physically and mentally.
With a state of the art. newly opened facility. With a  membership base of fun, positive people looking for an outstanding workout and a fun time.
This is how CrossFit and Group training was always meant to be.
No experience necessary. Thanks to the unique way we run our classes, therefore all of our workouts are semi-customizable. Set in a controlled group environment. Large space and coaching attention that keeps you safe, engaged and improving.  Offering real value for money.
Drop-ins visiting the Disney area will find plenty of opportunities to keep there training "ticking" over whilst not visiting the Disney theme parks and many other attractions in the area. Crossfit AfterBurn is with a short drive of most vacation rental communities such as Reunion Resort, Champions Gate and Celebration FL.
For more info on CrossFit and Group Training. Feel free to give us a call or shoot us an email.  But don't take our word for it…
Find out why Crossfit Afterburn has over 65 perfect 5 out 5 Google reviews in the short time it has been open and in use by the community.