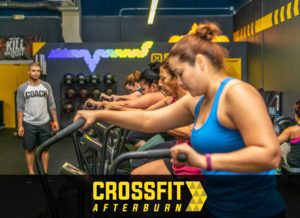 We Are Transitioning Away From The BURN30: Please Read!
My name is Carl Johnson and I am one of the owners of CrossFit Afterburn
We appreciate your business and are thankful that you have chosen us to help you attain your fitness goals! These have truly been hard times for many businesses due to the pandemic, but offering the BURN30 class when we re-opened in May was great for us and the community to get after our goals, while remaining safe due to the uncertainty of the pandemic. We are happy that things are improving for the gym, but sad to announce that we will not be able to continue offering the BURN30 classes going forward. Due to the demand we've receive for our BURN 60 classes, it's caused the schedule to be limited in what we can offer for both programs simultaneously. Therefore, we will be transitioning back to our pre-COVID19 offering of exclusively BURN60 classes.
I know and understand that you joined our gym because of our BURN30 program and that it may seem unfair for us to take it away. Trust me, we totally understand any frustrations you can, will, and do have. That is why we are giving you 1 month of BURN60 classes at the same rate that you pay now for the BURN30. Here is some info on what this means:
Your membership billings in October will not change. It will be the same rate you signed up for
Your membership for your 1-month of BURN60 will transfer into the same one you current hold – Unlimited, Elite (8 classes) or Basic (4 Classes)
Your membership will not auto-renew in November, unless you would like to continue with us on a BURN60 membership. In which case, you must email us at info@crossfitafterburn.com or let our front desk associate at the gym know in person.
If you wish to cancel your membership, we completely understand and appreciate the time you spent with us.
CrossFit Afterburn will be running BURN60 classes exclusively beginning Monday, September 28th
We know you may have additional questions or concerns, so please email us if you do. Our team is working diligently to update the schedule for next week and moving forward. Once we have updated the schedule for next week in Mindbody and your accounts, you will be able to reserve your classes. If you have any trouble scheduling after we've made these updates, you can also call or text our staff at (863) 837-3746.
Sincerely with Best Regards,
Carl Johnson, Owner 
CrossFit Afterburn
2629 Waverly Barn Road #135
Davenport, FL 33897